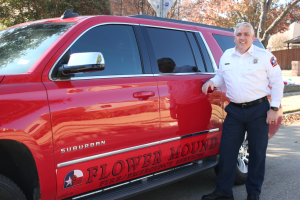 One of the scariest thoughts imaginable is being in one's home, especially at night, and suddenly detect the smell of smoke, or see the glow of a flame. If such a situation actually occurs, the next thought will be a prayer for a fast-responding and fully-equipped fire department. I invited FM Fire Chief Eric Greaser to sit for an interview to outline some of the features of the department he leads and to tell us about the new station #7. The following history was taken from the FM webpage of the FMFD:
"Not unlike the majority of the nation's fire departments, the Flower Mound Fire Department's roots lie in volunteerism. The department was officially created in 1972 by a group of residents concerned with the threat of wildfires. With a population of 1,685 people, the Town was predominately rural, and therefore venerable to fast-moving grass and brush fires.
"Improvisation was the standard for fighting fire at that time. 'Firefighters' were recorded on a roster with telephone numbers. When a member was made aware of a fire, a telephone call chain was activated until all of the members were notified. Utilizing pickup trucks fitted with 55-gallon drums of water, brooms, shovels, and burlap sacks, the members would work to extinguish the fire. Numerous stories have been told over the years about the fires that would start near Lake Grapevine only to be extinguished when they would reach Farm to Market (FM) Road 407.
"The first real fire engine acquired by the department was a 1943 Mack, recently retired from service from the Department of Defense. The standard olive drab paint was covered with the lime green paint so popular in the 1970s. The original truck is in storage, hoping to be restored someday. The first fire station was temporarily located in the All-In-One strip center at Shiloh and Cross Timbers Roads, currently a real estate office. The volunteers worked to build a metal building south of the intersection where the current station two is located.
"Housing and Urban Development funds were secured in 1978 to build a municipal building / fire station at what is now the corner of Cross Timbers and Morriss Road. Two 1979 Ford / American La France Fire Engines were ordered for the Town's protection and a full time fire chief was hired to lead the department. The first three full time firefighters were hired in 1980, rotating 24-hour shifts to provide coverage.
"In 1985, the full time members renovated the Shiloh station and additional firefighters were hired to staff it. One person was now available at each station to bring fire engines to a call and meet the volunteers and off-duty members at the scene. As the Town of Flower Mound began to operate an ambulance service in 1987, previously provided by the City of Lewisville, additional full time members were added to the roster. In response to Town growth and the resulting emergency services needs, the department has continued to expand."
For more info on FMFD, click: www.flower-mound.com/129/Fire-Department