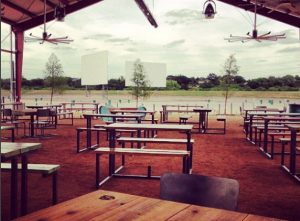 The Coyote Drive-In theater in Lewisville is closed indefinitely, according to a Facebook post published Thursday night Sept. 27.
The drive-in was wildly popular upon opening in late 2016, and its Facebook page already boasts more than 70,000 likes.
No reason was given for the abrupt closure, but a Sept. 21 Facebook post explained that the outdoor theater would be closed due to inclement weather, and stated that the location was susceptible to flooding.
Read more from The Lewisville Texan Journal.