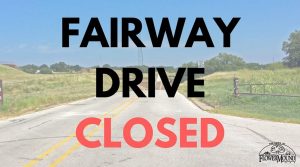 The road across Grapevine Lake Dam, known as Fairway Drive or the Dam Road, will be closed to traffic until at least the end of the year.
The U.S. Army Corps of Engineers shut down the road on Monday night as a precautionary measure while making repairs to the Dam.
The Corps had intended to close the road during the construction phase only. However, due to all the rain the road had to be closed now.
Access to Cowboys Golf Club and Marina Drive will remain open to the south.
Commuters can use FM 2499 as an alternate route.
The dam continues to function as designed and is not at risk of failing, according to authorities.