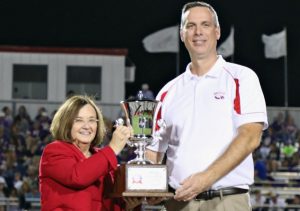 Argyle High School earned a record-breaking seventh consecutive UIL Lone Star Cup, the University Interscholastic League announced this week.
In Conference 4A, Argyle earned 119 points state championships in academics, girls basketball and baseball, and state runners-up finishes in marching band, volleyball and boys golf. The score of 119 is the most of any school in 2017-18, and it gives AHS a total of nine Lone Star Cup victories, which is the second-most all-time, according to a UIL news release.
The UIL Lone Star Cup recognizes six high schools, one in each of the six UIL conferences, based on their overall team achievement in a variety of sanctioned academic, athletic and music championships. All UIL member high schools in good standing are included for contention for the UIL Lone Star Cup. Trophy presentations will take place in the fall at events chosen by the winning schools.
In Conference 6A, Marcus High School came in 19th place and Flower Mound High School tied for 22nd.