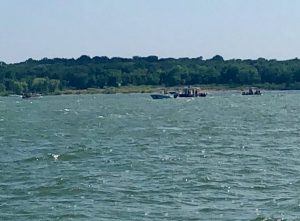 The search for a possible drowning victim on Lake Grapevine is entering its second day.
Grapevine Fire Chief Darrell Brown said an adult male fell off an inner tube being pulled by a boat around 10:40 a.m. Saturday and went missing. He was not wearing a life jacket.
The incident occurred on the northwest end of the lake.
Chief Brown said his department has been running sonar to locate the victim, but said it was "literally like searching for a needle in a haystack."
Crews from the Grapevine Dive Team and Texas Game Wardens are assisting with the search.
Check back for updates.