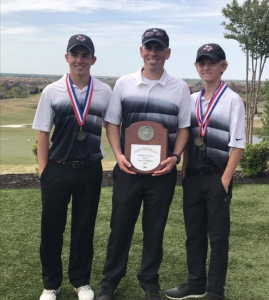 Both Argyle boys teams and the girls golf team advanced to the regional tournament earlier this month.
The Argyle black team won its seventh district championship in a row while shooting a district team record on round 1 of 293 (+5). The Argyle Red team took second place, making it the third out of four years that Argyle has advanced 2 teams to compete in the regional tournament, according to the district.
Cole Wilson became the first Argyle Eagle to shoot under par total at district, finishing with a 2-under-par 142 over the two-day competition. Logan Diomede placed second individually. Cole, Logan, Will Gilster, Justus Christman, Luke Griggs, John Yonce, Scott Gay, and Campbell Coty all were selected to the all-district team. The Argyle black and red teams will compete at the regional tournament in Canton from April 23-24.
In the district championship, the girls team finished second overall and Hannah Wood came in fourth place individually, according to Argyle ISD. Molly Yarbrough, Sarah Greiner and Madelyn Diomede made the all-district team. The girls will play at the regional tournament in Canton from April 25-26.