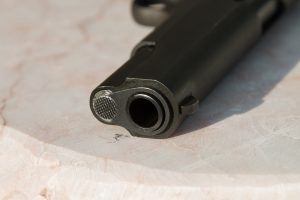 Two Northwest High School students were arrested after a gun was found on campus Tuesday, according to the Northwest Independent School District.
One of the students posted photos of himself with guns on social media, and some students saw it and reported it to the school resource officer, according to Officer Jimmy Pollozani, a Fort Worth Police Department spokesman.
Within three minutes, campus officials and the school resource officers located the student and took possession of the gun with no incident, according to the school district news release. The officer found the handgun and two magazines in the student's possession, Pollozani said ,adding that the student was going to try to sell the gun.
The student was questioned and implicated another student, who was then detained, according to the district statement.
One of the students was a juvenile, and the other was an adult. As of Tuesday evening, they haven't been booked and arraigned, so their identities were not made available.
In a letter to all district families, Superintendent Ryder Warren applauded the students who "saw something and said something."