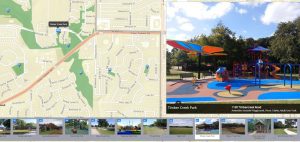 The town of Flower Mound has improved its park directory on its website with a new interactive map.
The new interactive map feature, found here, shows residents where the parks are located, what they look like and what amenities can be found there.
In the future, town staff plans to include park projects, different park categories according to amenities — such as playground, natural area, sports fields, etc. — and integrate more pictures as well, according to a town news release.