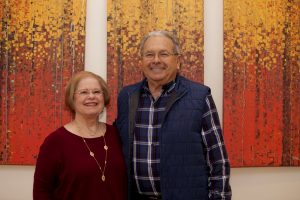 Longtime Flower Mound couple, Al and Mary Kay Walker, celebrated their 40th wedding anniversary in August 2017. A devotion to volunteering was one of the attractions that drew the couple to each other.
"We knew each other for only four months when we got married," said Mary Kay Walker. "It was one of the most impulsive things we've ever done. I knew he had a servant's heart."
A friend introduced Al to Mary Kay, who was a divorced mother with two daughters, aged seven and nine; Al had a son and daughter, aged 14 and 10. Today, the Walkers also include grandchildren: grandson, Montana in Austin; twin granddaughters Sarah, who went to Baylor and Rachel, who went to UNT; Grace, who attended Dallas Baptist University; and, Kaylee, who is starting at UT-Austin.
In their younger years, both Walkers had fulltime careers, but devoted time to various areas of volunteering.
"He graduated from Caddo Mills High School and had worked in a cotton farm in Farmer's Mill with [actor and WWII veteran] Audie Murphy, who was a friend of Al's older brother," said Walker. "When we visited Washington, D.C., the one place he wanted to go was to Arlington National Cemetery and pay his respect to him [Murphy was the most decorated soldier in WWII and his grave site is the most visited, after President John F. Kennedy]. It was very special."
Al had relocated to Murphy and started its volunteer fire department in 1973 and served as Fire Marshall with a used fire truck– and many stories– to fight grass fires on the Joe Duncan property, known as South Fork, when it was still rural before neighboring Plano had its population boom.
He also served on the Murphy Planning and Zoning Commission from 1973 to 1979.
In Walker's early years, she lived in Orange– the county seat of Orange County– which is the easternmost city in Texas and is located on the Sabine River at the border with Louisiana. In 1968, she moved to Farmer's Branch.
"I was a paralegal and as a member of DAPA (Dallas Area Paralegal Association) I volunteered at Legal Aid down in Fair Park," she said. "Everything I like to do is need-based; a nonprofit."
The Walkers moved to Flower Mound in February 1996; back when FM 2499 was new, at the intersection of FM 2499 and FM 1171 there was only the Kroger and the original BYOB Bari's across the street, plus the streets into Bridlewood were just being cut.
The town was about to experience its population boom and residents were going to need facilities and services that the town's annual budget didn't stand a snowball's chance in Texas to cover. Luckily, the dynamic duo of volunteers had arrived.
The Walkers were– and still are– actively involved in the RSVP (Retired Senior Volunteer Program) in Denton.
"Al just celebrated his fifteenth anniversary volunteering at the front desk at Medical City Lewisville," said Walker.
Her volunteerism started with the Cross Timbers YMCA in Flower Mound and the Senior Center of Lewisville, as well as the Senior In Motion (SIM) group in Flower Mound.
By 2013, Walker was on the town PALS (Parks, Arts and Library Services) Board and was involved in the effort to open Fort Wildflower. Located at the northwest corner of Garden Ridge Boulevard and Spinks Road it features hike and bike trails, a picnic pavilion, pedestrian bridge, restrooms and parking areas. With the help of local volunteers over five-days, the unique park was constructed of recycled plastic and wood-fiber materials.
"In 2009, (attorney) Virginia Hammerle helped me turn the SIM Auxiliary, Inc., into a 501(c)3, nonprofit organization to raise money to support the Town of Flower Mound Seniors In Motion program," said Walker.
With that designation, Walker and other senior activists helped the SIM program grow from meeting in a room within the Flower Mound Community Church in the 1990s, through several moves, to the free-standing Senior Center at 2701 W. Windsor Drive, which opened in 2015.
Using her knowledge gained through Al's volunteer experience with Medical City Lewisville, Walker helped organize the volunteer program at Texas Health Presbyterian Hospital Flower Mound.
Her current focus is writing a grant for RSVP support of a Youth & Family Counseling event in April focusing on the national health crisis related to opioid addiction and its impact on families.
Another effort close to her heart is supporting those affected by mental illness.
Mental Health Grace Groups meet on the first and third Thursdays of each month at First Baptist Church of Lewisville. The church offers three support groups– Living Grace, for individuals diagnosed with a mental illness; Family Grace, for family members who support a person diagnosed with a mental illness; and, a Grace group specifically for those affected by PTSD.
First Baptist Church-Lewisville is located at 1251 W. Valley Ridge Boulevard in Lewisville.
For more information or to sign up, go to: fbclewisville.org/grace-groups, or call the church office: 972-436-5502.
She's also looking forward to the North Texas Giving Day on Sept. 20 on the Denton Square.
"A strong work-ethic was ingrained for both of us; with honesty and integrity," said Walker. "We're both indebted to have our lives and be able to give back to the community."