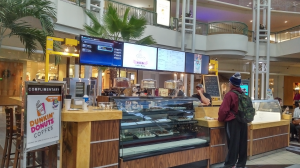 Several new businesses are expected to open soon in the new Music City Mall Lewisville.
Seven new shops are renovating retail space and preparing to open over the coming weeks, according to a news release, including: B&R Tax, Permian Ink, Sunglass Time, Texas Wireless, Capz, Cleo's Creations and Knockout Wear. The new offerings will include custom t-shirt and hat designs, eyewear, hats and caps, clothing and an art gallery.
"We are excited to welcome new business into the mall which gives our customers more options," said General Manager Richard Morton in a prepared statement.
The mall, 2401 S. Stemmons Freeway, still has five anchor stores — Macy's, JCPenney, Sears, Dillard's and Cinemark — and recently added a flight simulator and a newly-opened business: Kristi G's Coffee House, a new coffee and dessert shop located on the lower level of the atrium which serves Dunkin' Donuts Coffee and Blue Bell Ice Cream.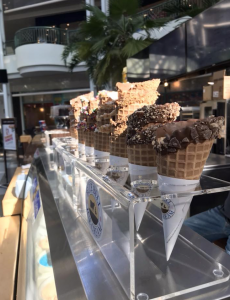 "We are excited about the new ownership and what they are doing with the mall," said Kristi Gravitt, owner of Kristi G's Cupcakes and now Kristi G's Coffee. "More importantly we are confident in them to deliver and bring the people back. For that reason, we took the offer to expand. People are happy to see a barista at the mall."
Music City Mall Lewisville is owned by Texas-based Investment Corporation of America, whose ownership is committed to investing in capital improvements, the news release said. A new carousel is arriving early next month and a state-of-the art two-level playground is in the design phase.
"We've got new signage ordered on the outside and we are welcoming new tenants each week," said Natalie Boyer, assistant general manager and director of sales. "We are in talks with both local and national retailers to fill the food court, 12,000 square feet of a new national chain and more than seven groups are considering the old 39,000 square foot theatre space. It's an exciting time."