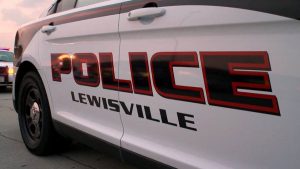 A woman suffered a serious head injury and broken bones Thursday night when she was struck by a car while walking across the street at the border between Lewisville and Flower Mound.
Lewisville Police Captain Michael Moore said the driver, a man, was in the southbound lanes of Garden Ridge Boulevard about 8:50 p.m., waiting in the left lane to turn left onto FM 1171. After the light turned green, he proceeded forward and struck the woman, who was crossing Garden Ridge from the northbound lanes.
The woman was taken to the hospital with a serious head injury and broken bones, Moore said, but she was in stable condition.
It is unknown if she was walking in a protected crosswalk, and there were no witnesses, Moore said. The driver stayed at the scene and cooperated with police. There were no signs of the driver being intoxicated, and it is unknown if there will be any charges.