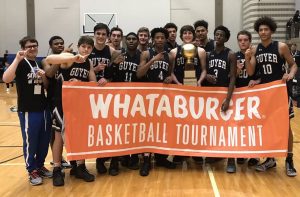 With humble beginnings in 1958, the Whataburger Basketball tournament has grown from eight teams to a 48-team basketball showdown featuring talent from across the state and beyond, including out-of-state competitors from Arkansas, California, Illinois and Kentucky.
This year, the Whataburger Basketball Tournament, hailed by USA Today and Sports Illustrated as one of the nation's top competitions, celebrates its 60th anniversary. This milestone tournament kicks off in North Texas this Thursday, Dec. 28, through Saturday, Dec. 30.
More than 30,000 spectators, including college scouts and coaches, are expected to take part in the action-packed three-day tournament at three area high school gyms. The 5,000-seat Birdville Independent School District's W.G. Thomas Coliseum will host the Boys Orange Division; the 1,700-seat Chisholm Trail High School arena will host the Boys Blue Division, and the 2,200-seat Saginaw High School arena will host the Girls Blue Division.
The Orange Division will showcase 9 out of the top 13 teams state ranked in 6A  including 2016 defending Whataburger Tourney champ and currently 6A #2 ranked Denton Guyer along with the top 3 state of Texas ranked teams in 5A.
Other area teams participating include Argyle and Liberty Christian.
The Whataburger Basketball Tournament has had its fair share of amazing moments, with former NBA standouts Rashard Lewis and Sam Cassell participating in the event. This year, nine hardworking student-athletes across the three divisions have committed to play Division 1 basketball at universities including Georgetown, Georgia Tech and Oklahoma. In addition to bragging rights, the winning team in each division will also earn a $1,000 scholarship from Whataburger for their school.
"The Whataburger Basketball Tournament has been a part of our history for many years, and we look forward to continuing this holiday tradition for many years to come," said Whataburger Director of Operations Scott Phillips. "As we celebrate this milestone, we want to send a special thanks to the student-athletes, parents, coaches and local communities who have helped make this event such a success. The tournament wouldn't be possible without you."
While competition is sure to be intense on the court, fans also have the opportunity to compete from the sidelines through two Pop-A-Shot booths during the first two days of the tournament. For each shot made, Whataburger has offered to donate $1 to Boys and Girls Club basketball programs throughout the state of Texas. Programs like these help develop physical fitness, reduce stress, and promote a positive use of leisure time, appreciation of the environment and interpersonal skills. In addition, for every social share about the Pop-A-Shot competition, Whataburger will donate a dollar to the cause. The activation will take place at both the W.G. Thomas Coliseum (on Dec. 28 and 29) and Saginaw High School arena (on Dec. 29).
Fans interested in witnessing history can purchase tickets at each of the tournament's three venues. Single-day passes are $9 on Dec. 28 and 29 and $10 on Dec. 30. Three-day passes are also available at Whataburger-BBT.org
"It's been six decades since our first tournament, but traditions remain the same. The 60th anniversary is packed with competition, and we know this is going to be one of the best yet," said Tournament Director Tom Rogers. "For some, this is their first opportunity to shine in front of college scouts, and we invite you to join us as we help make dreams a reality for these hard-working student athletes."