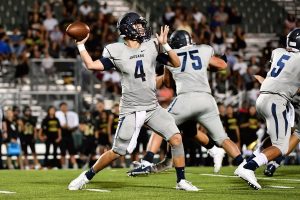 Argyle 70, La Grange 0
The Eagles hammered La Grange on Friday night, jumping out to a 42-0 halftime lead and winning 70-0.
Jon Copeland passed for 287 yards and five touchdowns, while Wes McCollum caught eight passes for 163 yards and two touchdowns.
Noah lang rushed for 93 yards and two touchdowns for the Eagles, and Cale Nanny caught two touchdown passes.
Argyle will play at Celina at 7:30 p.m. on Friday, Sept. 15.
Arlington 37, Marcus 14
Marcus moved to 1-1 on Friday night, coming up short against Arlington by a score of 37-14.
Arlington jumped out to a 20-0 halftime lead, before Justin Dinka broke a 65-yard touchdown run in the third quarter.
Dinka added a second touchdown later in the quarter and finished the game with 135 yards rushing.
Marcus will play at 7:30 p.m. on Friday, Sept. 15, at Mansfield.
Liberty Christian 10, Celina 9
The Liberty Christian Warriors notched a big win on Friday night, defeating the No. 11 Division 4A-2 team in the state by one point.
Cameron Baller kicked a 35-yard field goal for Liberty Christian in the first quarter, but trailed Celina 7-3 at halftime.
Kason Howell scored on a 5-yard run to give the Warriors a three-point lead, and were able hold off Celina despite a late Bobcats safety.
Liberty Christian will play at Gilmer at 7:30 p.m. on Friday, Sept. 15.
Coram Deo 35, Gainesville State School 14
Coram Deo evened it's season record with a 21-point victory over the Gainesville State School on Friday night.
Brooks King rushed for a touchdown and caught a touchdown pass to lead the way offensively for the Lions.
Caleb Johnson and Hunter Longcrier both scored on rushing touchdowns for Coram Deo as well.
The Lions will travel to Covenant High School in Dallas at 7:30 p.m. on Friday Sept. 15.
Keller Fossil Ridge 42, Flower Mound 30
The Jags came up short in their second game of the season on Thursday night, losing to Fossil Ridge by a score of 42-30.
Jackson Averitt passed for 322 yards and a touchdown, while Aaron Dixon rushed for 96 yards and a score.
Jake Welch had a phenomenal night, with 213 yards receiving and a touchdown, but Flower Mound could not quite overtake Fossil Ridge, as the Jaguars moved to 1-1 on the season.
Flower Mound will play at 7 p.m. on Friday, Sept. 15, at Keller Timber Creek.
DeSoto 42, Guyer 13
Guyer moved to 1-1 on the season on Thursday night, losing to De Soto by a score of 42-13.
The Wildcats had a hard time getting anything going offensively, scoring just six first-half points on a quarterback sneak from Luke Stillwell.
Harrison Bohannon scored on a run late in the fourth quarter, but Guyer came up short in its second non-district game.
The Wildcats will travel host Dallas Kimball in its next game at 7:30 p.m. on Friday, Sept. 15.