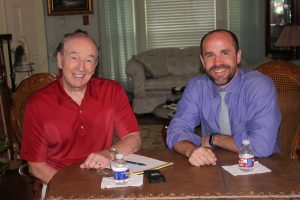 With a new political campaign season coming up in 2018, candidates are gearing up early for the challenges ahead. One such challenge is coming from an attorney who resides in Flower Mound.
Will Fisher is running for the Democratic nomination in the 26th congressional district in the March 2018 primary. If successful, Mr. Fisher will be running against the winner of the Republican primary, also held in March 2018. The 26th District incumbent is Republican Dr. Michael Burgess, who was first elected in 2002. In the video below Mr. Fisher talks about the issues he feels are most important in the campaign. The following personal info was provided by Mr. Fisher:
"To feel confident voting for me, you need to know not just what I stand for, but also who I am and how I got here. I grew up in Portland, Oregon, raised by two hardworking and loving parents. My mom was a fifth grade teacher and my father spent 30 years working for a heavy equipment manufacturer.
"My parents raised me and my five siblings in a conservative religious home where mutual respect, empathy, equality, and justice were taught and exemplified. We were taught to not judge or condemn others because they were different, and were expected to respect the dignity that is within all human beings. As a youth I participated in scouting, eventually earning the rank of Eagle Scout, to the delight of my mother. I served in my church, finding opportunities there to serve the less fortunate, such as feeding the homeless and making visits to home bound elderly. In school I excelled, making and achieving academic goals, and eventually becoming valedictorian of my high school graduating class.
"After high school, feeling an urge to spend some time serving others, I went on a two-year mission trip to Brazil, learning Portuguese and Spanish along the way, and learning a lot about myself. Those two years were critical in forming me as the person I am today. I saw real poverty, and experienced just an inkling of the struggles that many immigrants must feel in coming to our country. Coming home from Brazil I attended college at Brigham Young University, met and married my wife, Morgan, and continued to Law School at the University of Oregon, where I decided to become a business lawyer. Currently I am a proud husband, father, Texan, and practicing business lawyer.
"Married for 12 years, my wife and I are proud parents of two smart and energetic girls who attend elementary school in Flower Mound. As a father I want to pass down the values that I learned as a child: to love people wherever they are, to yearn for justice, mercy, and equality, and to value the inherent dignity of the human soul. Like so many others, I woke up on November 9th in shock from the direction our country had taken, unsure of what a future America looks like for my kids and future generations. The direction we are headed does not reflect our shared American values, and I believe our current congressman, Michael Burgess, is contributing to this moral disaster.
"Although I'm not from Texas, I'm proud to have put down roots and settled my family here. I came for the economic opportunities, but soon learned that what made Texas special were its people. Good people with big hearts! I believe in equality, and I have a soft heart for those disadvantaged in our society. I believe we're at our best as Americans when we're diverse. I believe that black and brown lives matter and I believe that women should be compensated equally for their work. I believe that love is love, regardless of gender.
"Most of all, I believe that we'll never be fully free so long as we allow inequality and injustice to persist. I believe we all deserve better than the representation our current leaders are providing, and by working together we can elect representatives who reflect our shared values. These are the reasons I'm in! My team and I are fired up, and like you, we're working hard so the entire district can bid farewell to Burgess. I invite you join me in this effort. Let us rise up and take the 26th District together. Let's teach Michael Burgess how to say goodbye."
For more info on Will Fisher, click on www.willfisherforcongress.com.
Bob Weir is a former NYPD officer, long-time Flower Mound resident and former local newspaper editor.