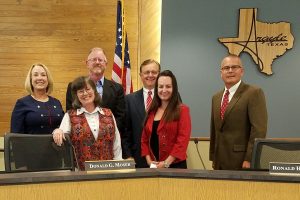 Argyle Town Council candidates gathered at Argyle Town Hall on Thursday evening for a candidate forum sponsored by The Cross Timbers Gazette.
The positions of Mayor and Town Council Places 2 and 4 are all contested.
Mayor Peggy Krueger is seeking her third term is facing Donald G. Moser, an eight-year resident and forensic fire investigator.
Council Place 2 incumbent Kay Teer is being challenged by Ronald Schmidt, and Place 4 incumbent Jay Haynes is facing Todd Mankin.
The forum was audio recorded and can be accessed below.