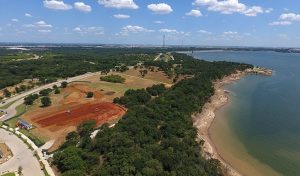 It's going vertical.  Yates Construction is well underway constructing The Lakeside Tower – the first of its kind, suburban luxury condominium tower in Flower Mound.
Situated on two acres overlooking Lake Grapevine, the project consists of a 16-story, Mediterranean-styled condo tower with approximately 226,000 square feet of living area, a three-story, 76,000 square foot enclosed parking garage, and four 3,000 square foot bungalows on the perimeter of the building.
For owner/developer Real Capital Solutions and Realty Capital Management, this is the culmination of over two years of planning.
"We are very excited to be working with Yates Construction," said Richard Myers, Managing Director of Realty Capital Management, "Yates has assembled a great team of experienced high-rise experts and after about a year of meeting and planning we are looking forward to getting the Tower in the air."
At build out, the boutique property will feature 48 luxury condominium residences with spectacular lake views from expansive balconies, nesting glass doors, direct elevator access, elegant finishes and fixtures and first-class amenities that rival the prominent towers in Uptown and Downtown Dallas.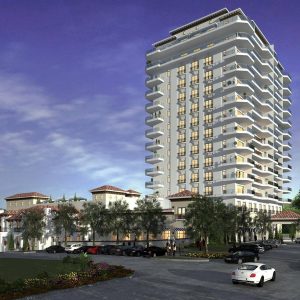 A 25,000 square foot pool deck above the garage will include a multitude of outdoor amenities including a 50-foot resort-style lap pool, hot tub, outdoor bar, fire pits with lounging areas, gourmet outdoor kitchen, putting green and bocce ball court.
The Lakeside Tower residences offer five floor plans ranging in size from 1,345 square feet with 2 bedrooms and 2 baths, to 5,726 square feet with 4 bedrooms and 4.5 baths. First-class services will include a 24-hour concierge, valet, on-site spa and yoga and Pilates studios.
"Our buyers have been patiently waiting for construction of the Tower to go vertical, so this is an exciting time for all of us," said Leslie Bardo, Senior Vice President of Realty Capital Management. "Creating a luxury condominium tower in the suburbs presented challenges but our partners, Real Capital Solutions and Prosperity Bank, as well as our buyers, are bringing this dream to a reality. We are 60% pre-sold and very busy at the sales center every day with interested buyers stopping in."
The 4,220 square foot lobby will feature limestone floors and light plaster walls with floor-to- ceiling-windows standing two-stories high. The third floor amenity level will be perfect for entertaining with a bar/lounge area, special events kitchen, elegant wine room for private dining, club room with whiskey bar, movie theater, fitness center and steam room.
Substantial construction completion of The Lakeside Tower is expected in July 2018.
More information about The Lakeside Tower is available at: www.lakesidetowertx.com.