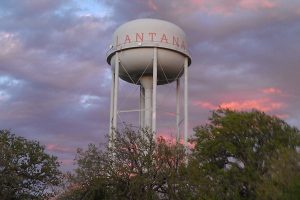 It's never too early to start thinking about spring cleaning.  And with that naturally comes the semi-annual Lantana Garage Sale. This year's Spring Garage Sale will be held on Saturday, April 8, from 8 a.m. to 3 p.m.  The Lantana Community Association makes it easy by providing the advertising and signage.  All you need to do is call the Association office by April 5th to let them know that you will participate and then get to cleaning out your garage, attic, closets, and junk drawers to find treasures.
While you're rooting through your piles, please set aside any old paint cans, motor oil, pesticide, old computers and other household hazardous waste that you wish to dispose of for the annual Lantana Earth Day event, which actually falls on Earth Day this year!  Save the date Saturday, April 22, and we'll have more details next month.
Severe weather season is fast approaching and the Argyle Fire District has implemented a new emergency notification system provided by Everbridge for tornado alerts. Your registration with Code Red will not transfer to Everbridge so you'll need to register with Everbridge to keep receiving alerts at www.argylefire.com. There are no tornado sirens in Lantana and no plans to install them, so the public is encouraged to sign up with Everbridge to receive severe weather alerts via phone, text, email, and TTY service.
The Lantana Safety Committee of the Fresh Water Supply Districts recently met and among the issues discussed were concerns regarding golfers crossing Lantana Trail instead of using the pedestrian tunnels. Several near misses involving vehicles and golfers have occurred over the years. A few ideas were floated, including installing fencing to deter golfers from crossing the road. It was decided to work with golf club management to better communicate with their members and look into posting signage on the course to direct golfers to the tunnels.
Committee members will also be conducting a walk-through safety inspection of the community over the next month, looking for missing street signs, vegetation blocking intersections, damaged sidewalks, potholes, and burned out streetlights. If you spot any safety hazards in your neighborhood, please don't hesitate to notify the Fresh Water Supply District at 940-728-5050.
The Lantana Community Association is preparing to start their annual capital improvement projects, focusing this year on remodeling and replacing the cardio equipment at the South Amenity Center, replacing the pool furniture at the South Amenity Center, resurfacing the tennis courts, plastering the Heritage Pool, and remodeling the exterior restrooms at the North Amenity Center. The price tag for the improvements this year will be over $150,000 and most of the work will be completed this spring. A copy of the HOA's annual budget is available on www.lantanalive.com or you can call the Association office at 940-728-1660 with questions.