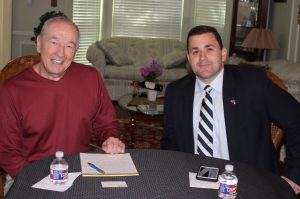 The topic of immigration has been central to the dialogue in our country for many years. As a country with thousands of miles of border with Canada and Mexico it's vital to our national security that we have a policy which is as thorough as it is enforceable.
Nick Adams was born and raised in Australia. He immigrated to America this year, with the United States government recognizing his 'extraordinary ability.' Mr. Adams was beset with struggles early in his life.
His first challenge came at 16 months. He was diagnosed with Stage IV Neuroblastoma (a rare form of childhood cancer), and given just a five percent chance of survival. He defied the odds, with a tenacity that would become a hallmark of his life.
This early adversity made an indelible impression on his life. He talks about the lessons he's learned: "It taught me to hope; it taught me to dream that anything is possible, that no hurdle is too high, no burden too great and no obstacle insurmountable. That every day I breathe is a day that I am in credit and I won't let a second go to waste."
Since those early trials, Nick Adams has been blessed with great success in life. He attended the University of Sydney, earning both undergraduate and postgraduate degrees. While studying, he was publicly elected the youngest Deputy Mayor in Australian history in Sydney, at the age of 21.
Drawn from a young age to the United States, Nick visited America for the first time in the summer of 2009. Since that time, he has spoken at conventions, corporate meetings, military bases, universities, high schools and churches, in more than 25 states. Abroad, he has given major addresses in several countries, including England, Germany and South Korea. He speaks fluent German and Greek.
In addition, he is a best-selling author, columnist and commentator, all achieved before he turned 30. He has appeared on virtually every major television and radio program, including The O'Reilly Factor, Fox & Friends, The Sean Hannity Show, The Laura Ingraham Show, The Hugh Hewitt Show, The Glenn Beck Program, 700 Club, The Dennis Prager Show, and hundreds more.
Moreover, Nick served as a Centennial Institute Policy Fellow at Colorado Christian University. His work has been published in newspapers around the world, such as The Washington Examiner, The Korea Times, and online at Fox News, Daily Caller, Breitbart, The Blaze, Jewish World Review and elsewhere. Adding to the list of honors, in 2013, Texas Governor Rick Perry appointed him an Honorary Texan.
Adams' acclaimed book, "The American Boomerang" (2014), was endorsed by The National Review, The Heritage Foundation, The Washington Examiner and The Dartmouth Review. Individual endorsements include Gov. Mike Huckabee, Chuck Norris, Dr. Ben Carson, Glenn Beck, Dick Morris, and Col. Allen West.
Mr. Adams is also the Founder and Executive Director of FLAG, which stands for Foundation for Liberty and American Greatness. FLAG is an educational not-for-profit (501c3) organization. Its principal purpose is to educationally proclaim the greatness of America and refute the fallacy of anti-Americanism.
In the video below Nick Adams talks about how Australia solved its immigration problem and how his FLAG organization works to bring the message of American exceptionalism back to our educational system.
His latest book, "Retaking America: Crushing Political Correctness", published in February 2016, was endorsed by Dana Perino, Hugh Hewitt, Col. Oliver North, NRA News, Doug Brunt, and WORLD Magazine, among others. For more info, click on, www.flagusa.org.

Bob Weir is a former NYPD officer, long-time Flower Mound resident and former local newspaper editor.