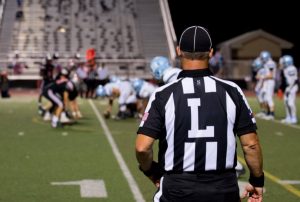 Here is a rundown of this week's southern Denton County pigskin matchups.
Marcus @ Lewisville
As the annual Battle of the Axe looms, this year's rivalry promises to be another great one.
Marcus enters the game 3-1, while Lewisville heads in with a 2-2 mark.
The Farmers will have to find a way to stop Marauders running back Justin Dinka, who has rushed for 828 yards and 10 touchdowns through the first four games this season.
For Marcus, Kwame Mickels presents the biggest threat for Lewisville, rushing for 424 yards, including a 175 yard effort against McKinney Boyd two weeks ago.
The game will be played at 7:30 p.m. at Max Goldsmith Stadium in Lewisville.
Guyer vs. Plano East
The Wildcats will try to move to 4-1 on the season this coming Friday as they prepare to host Plano East at Collins Stadium in Denton.
East will have to account for the running attack of the Wildcats, who were led by Noah Caine and Myron Mason last week.
Caine rushed for 217 yards and three touchdowns, while Mason rushed for 100 yards and two touchdowns in the Wildcats 34-24 victory over Plano.
Plano East has a good running back tandem as well, with Jonathan Meadors rushing for 130 yards and four touchdowns, while teammate Mikio Smalls rushed for 105 yards and a TD last week against Wylie.
The game will be played at 7:30 p.m. at Collins Stadium.
Flower Mound @ Trophy Club Nelson
The Jaguars will be looking for their second win of the season on Friday night as they travel to Northwest ISD Stadium to take on Trophy Club Byron Nelson.
Ifeanyichukwu Uzowihe has proven to be one of the big weapons for Flower Mound this season, combining for 102 all-purpose yards and the Jags only touchdown last week against Southlake Carroll.
For Nelson, Eli Rusche has proven to be dangerous at QB this season, but also wild at times, throwing four interceptions last week against Hebron.
The game will be played at 7:30 p.m. at Northwest ISD Stadium in Justin.
Liberty Christian @ John Paul II
The Warriors are still looking to break through with their first victory of the season on Friday night as they prepare for John Paul II.
Jon Copeland passed for 214 yards and two touchdowns last week against Prestonwood Christian and will likely have an even bigger game this week.
John Paul II's Avi Shapira rushed for 92 yards last week against Trinity Christian and will need to be accounted for by the Warriors.
Liberty Christian will play at John Paul II at 7:30 p.m.
Argyle and Coram Deo are in their Bye Week.