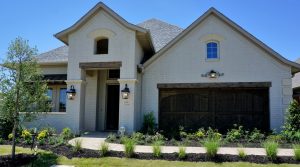 Area residents can tour two new model homes on May 19 at Orchard Flower, a new gated community designed for active adults 55 and over in southeast Flower Mound.
Dallas-based Grenadier Homes is planning 98 custom-built patio homes priced from the low $400,000's in the 24-acre master-planned community off FM 3040 and Old Orchard Road.
"We're so excited about this new opportunity. It's a privilege to bring custom Grenadier Homes to the well-developed town of Flower Mound through the Orchard Flower community," said Anthony Natale, president, Grenadier Homes.
The homes will feature large back porches and patios with a homeowner's association responsible for lawn care. The development will also feature such amenities as walking trails, a resort-style lounging pool and a fitness/community center.
"Every one of our luxury patio homes at Orchard Flower is thoughtfully designed and built with Grenadier Homes' unique features and high-end amenities, architecturally significant elevations, enhanced landscape and fencing, and most importantly more square footage on the first level where you spend most of your time," said Natale.
Architectural designs include both French Country and Texas Hill Country external features and landscaping.
"In many cases, just by Lifesizing and eliminating rooms you never use, many buyers will find that our new efficient homes which are HOA managed allows them to save in the range of $2,500 to $3,500 per month as opposed to their larger older home. This effectively pays for the new home in 15 years or pays the interest on the new home," said John Egnatis, CEO, Grenadier Homes. "We're providing them with extra time and money to reach into their bucket list and enjoy the things that matter most."
The project was initially proposed as a high density apartment complex for seniors but was voted down by the town council in 2010, according to town records. The developers returned with a single-family housing concept in 2012. Ground was broken on Orchard Flower in December 2014.
For more information on Orchard Flower by Grenadier Homes, visit: www.grenadierhomes.com/properties/community/orchard-flower