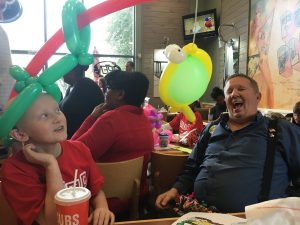 The 7th Annual Jersey Mike's Subs "Day of Giving" on Wednesday, March 30, is the culmination of its March "Month of Giving" fundraising campaign for Wipe Out Kids' Cancer.
One-hundred percent—every single dollar—will be donated to Wipe Out Kids' Cancer by Jersey Mike's Subs, unlike some restaurant-sponsored days-of-charity, which give a small percentage of sales. From the first sale to the final sale, all day and night—brunch-lunch-snack-dinner– on March 30, each meal served will go to fight childhood cancer.
The two Flower Mound Jersey Mike's Subs are located at: 2701 Cross Timbers Rd., 972-906-1066; and, 3651 Justin Rd., 972-874-9153.
The 2016 goal nationwide is $3.5 million for more than 180 local charities.
In 2015, the 35 DFW-area Jersey Mike's locations raised more than $100,000 for the campaign. In addition, the nationwide initiative raised more than $3 million for 150 locally-based charities last year.
Since 2010, Jersey Mike's has raised more than $14-million for local charities and has distributed more than 1.5-million free sub sandwiches to help numerous causes.
For more information, visit www.wokc.org.