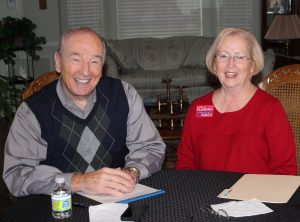 This year, there's an open seat on the Highland Village City Council and three residents are campaigning for it. The candidates for the Place 4 seat are Barbara Fleming, Richard Rega, and Dan Jaworski.
Mr. Jaworski came over for an interview recently and it's been posted here.
Mr. Rega has been invited for an interview which will take place soon.
I also had the pleasure of doing a video interview with Barbara Fleming and it accompanies this article. The following information comes from her campaign literature.
Ms. Fleming was born in Midland Texas, attended Midland High School and Sul Ross University in Alpine, Texas. She's married to Jim Fleming, a retired Deputy Chief of the Mesquite Fire Department. Ms. Fleming has been a licensed real estate broker since 1976, working in sales and management. She has twice served as President of the local board of Realtors, and was elected to two terms as Vice President Region 4 of the Texas Association of Realtors. Among other encomiums, Ms. Fleming has served on numerous civic task forces and served as Chairperson of the Lewisville Chamber of Commerce, and the Chair of Keep Lewisville Beautiful. She's also been on boards of Ann's Haven Hospice, Youth and Family Counseling, United Way, Cancer Society and others.
Her honors include: Local Board of Realtors Sales Person of the Year, Realtor of the year, Dallas Home and Apartment Builders Sales Manager of the Year, and Chamber of Commerce Citizen of the Year. She and her husband Jim are retired and have been homeowners in Highland Village for 37 years. In addition, Ms. Fleming is on the Highland Village Public Art Advisory Board, Secretary of the Highland Village Lions Club, a member of the Highland Village Women's Club and a member of Trietsch Memorial Methodist Church.
"Being retired, I have time to devote to our city. My desire is to serve you, the residents of our award-winning city, by listening to you and working to maintain and ensure even further the high quality of life we as residents have and desire. I ask for your vote on May 7. Early voting begins April 25 – May 3, 2016."
For further information on Ms. Fleming, please access her web page at: www.barbaraflemingcampaign.com. You can also check out her Facebook page: Barbara Fleming for HVCC Place 4.
Bob Weir is a long-time Flower Mound resident and former local newspaper editor.