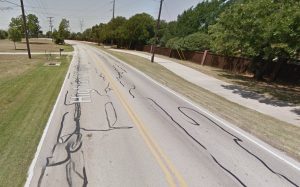 The Highland Village Council on Tuesday approved a resolution authorizing funding for the Highland Village Road paving project.
The project consists of an asphalt overlay of Highland Village Road between the KCS Railroad and the Brazos Boulevard/Highland Shores Boulevard intersection. The overlay on the northern and eastern portions of Highland Village Road was completed in a previous project.
If funding allows, the overaly will also include Nowlin, Stone Canyon and Canyon Creek which are side streets off of Highland Village Road.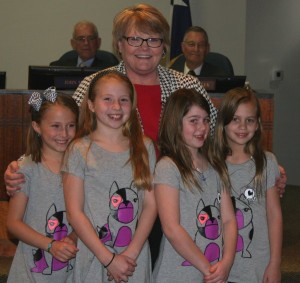 The project is being done in conjunction with the Highland Village Road water line replacement project, which is expected to be complete in late spring. The overlay project is anticipated to begin this summer.
During Mayor's comments, Mayor Wilcox recognized Marissa Miltz, Ellie Newton, Maci Miltz and Brynn Harper for their work in creating The Messy Mutts' Arty Party. The fourth and second grade girls are conducting a Destination Imagination project designed to inform residents of a new dog park coming to Highland Village, encourage dog owners to pick up after their pet on trails and at the new dog park and to raise money for amenities for the dog park and for Destination Imagination. The event is scheduled for January 30 from 1 p.m. to 3 p.m. at Unity Park.
Police Chief Doug Reim conducted a swearing in ceremony for the newest HVPD officer, Travis Flowers. Officer Flowers grew up in Highland Village and after completing his bachelor's and master's degrees chose to work in law enforcement in his hometown.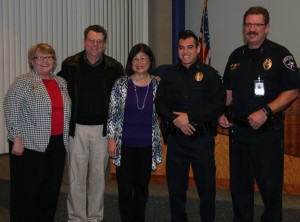 The HVTV Update informed residents of the photo contest currently underway and registration for the annual Father & Daughter Valentine's dance to be held on Friday, February 5. More information is available at www.hvparks.com.
The City Council early work session and regular session is available on HVTV (Time Warner 16; Verizon 43) and via the website streaming by clicking HVTV. The meetings are also available for on-demand viewing on the city website.