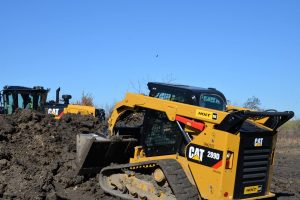 The Fort Worth District, U.S. Army Corps of Engineers continued its efforts this week to repair the 161-foot long embankment slide which occurred during the floods last year at the Lewisville Lake Dam.
Bristol General Contractors, LLC, the slide repair contractor, has been on site since last week and is constructing haul roads on government property next to the dam and has moved in their construction office trailer for on-site supervision of the $6.4 million repair of the embankment slide.
Notice to proceed was given on Nov. 29 and repair work is scheduled for completion in late spring to early summer.
"The reconstructed embankment will be protected by stone riprap on the upstream side and Bermuda grass sod on the downstream side," said project manager, Mike Kingston. "As part of this effort, removal and replacement of a portion of the asphalt roadway and subgrade layers along the embankment crest will be required."
The slide was discovered within hours of occurring during the flood event in late June by lake personnel who were monitoring the dam around the clock due to the high pool levels. These types of slides are typical on earthen-rolled dams but do require attention to ensure the continued integrity of the structure.
While Lewisville Dam has some known dam safety issues, it is not at risk of failure, Corps officials said.  Flood water from last month's rains are currently being discharged through the dam's outlet works.
"Life safety is our main priority within the Army Corps of Engineers," said Col. Calvin Hudson II, commander, Fort Worth District. "Our Dam Safety Program seeks to ensure that Corps-managed and operated dams present minimized risks to life, property, and the environment.  Dams are designed and built to reduce flood risk, but they cannot eliminate all risk."