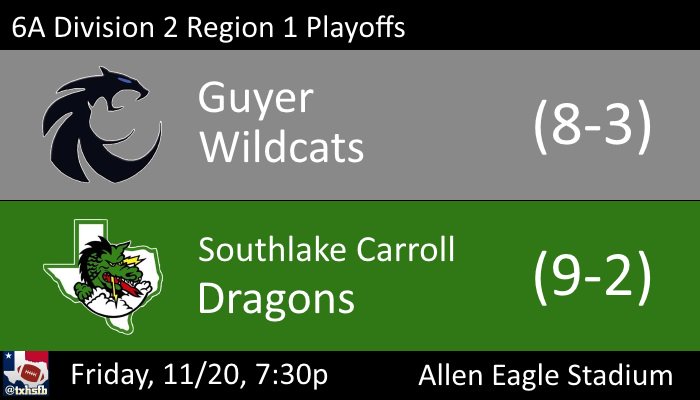 Dragons up next for Guyer
The Guyer Wildcats scored 21 unanswered points to defeat Hebron in the bi-district round of the playoffs last week, and now have their sights set on Southlake Carroll.
Shawn Robinson rushed for 247 yards and three touchdowns in the game against Hebron, and Noah Cain scored two rushing touchdowns and caught a touchdown pass.
Carroll upset Cedar Hill last week with a 37-33 victory and is riding a four game winning streak.
The Dragons only loss this season came at the hands of Euless Trinity, who was upset in the opening round of the postseason by South Grand Prairie.
For Guyer to win, they will have to make use of their effective run game and try and contain quarterback Mason Holmes, who has passed for nearly 2,600 yards this season and 35 touchdowns.
Guyer and Carroll will play at 7:30 p.m. Friday in Allen.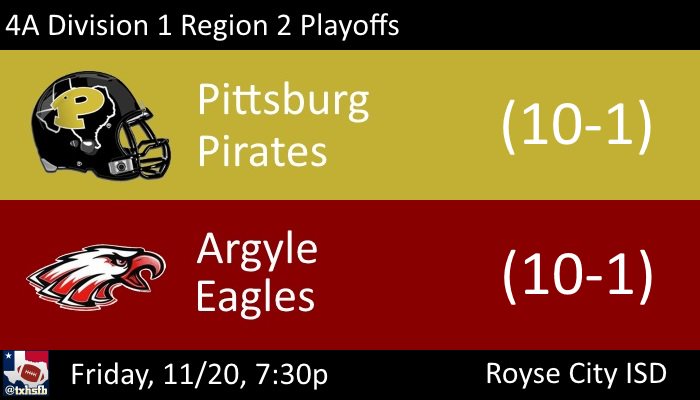 Argyle prepares for Pittsburg
Argyle crushed Lake Worth in the opening round of the playoffs last week by a score of 70-7, and will now take on Pittsburg High School at 7:30 p.m. Friday in Royce City.
Dane Ledford was a perfect 8-8 passing, with 254 yards and three touchdowns against the Bullfrogs.
Taylor Sweatt rushed for 121 yards and two touchdowns, and Drew Estrada caught two touchdown passes in the game.
Argyle will need to slow the quarterback/receiver tandem of Brian Baca and Damian Porter, who hooked up for 117 yards in last week's bi-district victory over Crandell.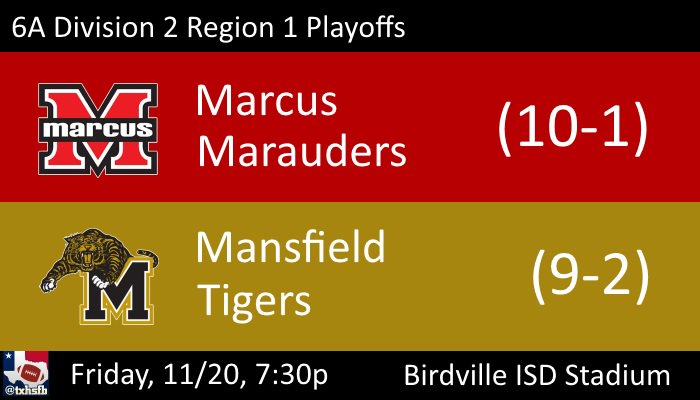 Marcus faces Mansfield in rematch
Marcus opened the postseason with a bang last week, defeating Keller Fossil Ridge 57-14 to advance.
Nate Hopkins rushed for 204 yards and three touchdowns in the game and Mitch Cason passed for 141 yards and two touchdowns for the Marauders.
Marcus will take on Mansfield at the Birdville FAAC in North Richland Hills at 7:30 p.m. on Friday night in a rematch from week one, a game the Marauders won by 10 points.
The Marauders biggest objective is stopping Mansfield running back Kennedy Brooks, who has rushed for 2,302 yards and 28 touchdowns this season.
The game will be broadcast live on KTXA/Ch. 21