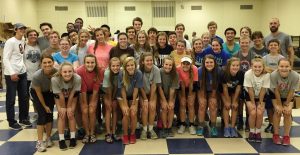 Liberty Christian Upper School students volunteered to serve at Mission Arlington and Fort Worth's Beautiful Feet on Columbus Day, a school holiday.
Sponsored by the Spiritual Life Department at Liberty, students aimed to fulfill the Scripture in 1 John 3:18: "Dear children, let us not love with words or speech but with actions and in truth."
At Mission Arlington, students organized tons of donated canned food in preparation for Thanksgiving. Students also hauled trash and separated donations. They finished the day by organizing a room full of school supplies for children in need.
Tillie Burgin, founder of Mission Arlington, said she loves when Liberty students come to serve because they are hard workers and a blessing to her and the ministry.
"Our students tackled every challenge they were given with a great attitude," said Suzanne Manning, teacher and Girls' Minister. "They did not have to serve, yet they used the only day off they had this month to serve a ministry that takes care of the physical, spiritual, and emotional needs of 50,000-plus Arlington residents. It was very rewarding to see them work so hard."
Students at Beautiful Feet served meals to a group of the homeless, and then led devotions and praise and worship services.
"Students had a great opportunity to share the hope of the gospel," said Manning. "They shared their personal testimonies and prayed individually with the homeless."
Teacher and coach Preston Philpott agreed. "The most powerful expression of love was the fearlessness of our kids to engage in prayer and blessing for visitors at the ministry; they were absolutely unhesitant," he said.
Students began the day by meeting at Liberty at 7:30 a.m., and they worked until noon when they loaded buses and ate their sack lunches on the way home.
"Students and staff came away from our day of service with their lives being impacted but serving others," said Campus Pastor Chris Searcy.
"They got outside their comfort zones, and I know they all had great experiences they will carry with them forever."