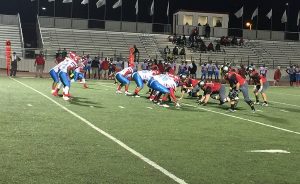 by Mitchell Mason
The Argyle Eagles scored on each of their first 7 drives, building a 49-0 halftime lead and never looking back, cruising past Dallas Carter en route to a 49-21 win, clinching their 12th straight playoff berth.
After several rain delays, the game was finally able to begin, and after Carter (2-6, 1-2 district) unsuccessfully tried an onside kick to open the game, Argyle (7-1, 3-0 district) made use of the short field and senior RB Taylor Sweatt found the end zone from 10 yards out to make it quickly 7-0 in favor of the Eagles.
After gaining good field position again after a solid punt return, Gage McCook was able to utilize good blocking on a speed sweep on a 32-yard score to double the lead.
Sweatt would go on to score twice more in the half, and junior QB Dane Ledford threw a beautiful strike in the corner of the end zone to Clemson commit and senior TE JC Chalk to increase the big lead to 49-0.
With many reserves in for both teams in the second half, Carter was able to score late touchdowns to pull the game somewhat closer.
The Argyle defense was swarming around the Carter offense, and the Eagles were able to dominate in every facet of the games. The Eagles had an astounding 344 to -16 yard advantage in the first half.
Argyle won its 31st district game in a row, and will have a chance to cap off another district title in a showdown against Sanger on Nov. 6.
"At Argyle, it's what's expected." Said Sweatt, who ran for 103 yards and 3 scores. "All of us do our jobs to make it happen year after year."
Argyle travels next week to take on Dallas Pinkston.