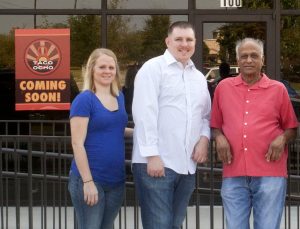 Area residents will soon be able to tickle their taste buds with dishes from eight different Latin American cuisines, and do so with the knowledge that they are eating only the freshest ingredients.
Taco Ocho plans to open its third location this fall, and the destination is Flower Mound, right next to Market Street on Long Prairie Road.
"I have been a Flower Mound resident since 1997," Mani Bhushan, owner and operator, said. "I was not lucky enough to find a good place to open, so when this space became available, we jumped on it."
The restaurant's mission is pretty simple: have a fresh, casual and a chef-driven concept with a fine dining mentality.
What does that mean?
Well, for Bhushan, it means good ingredients, classic cooking techniques and sauce making skills, complex prep and cooking procedures, a simple menu, complex flavors and not just Mexican, but multiple Latin flavors.
"I think it's going to be well received," Bhushan said. "People in Flower Mound want to eat healthy food, and we make everything from scratch. Forty-five percent of our menu is vegetarian while we still offer lots of healthy choices for meat lovers as well."
The restaurant serves dishes in their familiar formats, like tacos, tostadas and tortas. The menu offering includes jalapeno pork tacos from central Mexico to Caribbean-style tostadas from the Dominican Republic, to Cusco steak tortas from Peru and a kale and mango salad from Brazil.
Taco Ocho also offers a kids menu in a relaxed environment with reasonable prices. Bhushan said he would like for his customers to leave feeling satisfied.
"I hope that people will think of it as a place that has different food, which is very fresh and healthy," Bhushan said. "We use 65 different ingredients to get the flavors we get.
I hope the take away would be that it is something totally different, with people feeling they've never eaten something like this, and they love it."
The restaurant will also have a full bar which will offer several local craft beers as well.
Bhushan said if all goes according to plan, Taco Ocho will open in Flower Mound in early October. Visit www.tacoocho.com for more information.