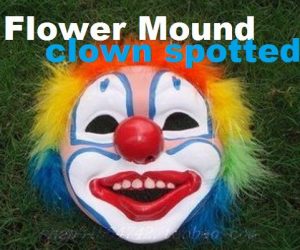 Flower Mound police took an interesting, if perhaps alarming, call from a man reporting a suspicious clown in his neighborhood.
It happened close to 9 p.m. Monday night.
According to a police call report, the man told police that someone wearing a clown mask was hiding in the bushes on the west end of Windmill Lane in Bridlewood. The "clown" was reportedly wearing blue shorts, and a t-shirt.
Another person, wearing a white t-shirt and blue shorts, had a chain hanging around his neck with a police badge attached to it.
The caller said the "clown" was first running down the street making noise, then appeared to be riding a bike. He suspected the second person may have hit the trails nearby.
The "clown" eventually rode past a gazebo toward the east end of Windmill near a grove of trees. At that point, the caller was no longer able to see that person.
Police checked out the area but found no evidence of a crime, nor the two people mentioned on the call.