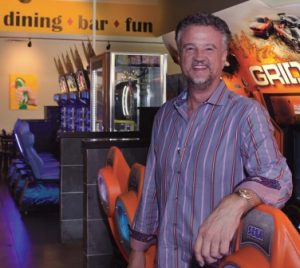 Residents of Flower Mound and surrounding communities now have a place they can go to have a great meal, enjoy quality entertainment, let their children play and not have to drive all over the Metroplex in order to do so.
Bar Fun Dining, better known as BFD, recently opened in the Robertson's Creek Shopping Center at FM 2499 and Dixon, and owner Cory Haynes said so far, the feedback he has received has been superb.
"We've only been open for a few weeks and have not advertised, but the folks that are coming in get it," Haynes said. "They say 'this is great, I don't have to worry about my kids and can have a good time.'"
As "a new kind of gourmet experience," BFD is not your typical fast-casual, family restaurant.  The restaurant features a unique menu along with the latest, high tech video games to play before and after your meal.
"But don't let the games fool you, they're just for fun," Haynes says. "We take the food very seriously. It's why we're here."
Scratch-made items from fresh ingredients, partnered with the latest in redemption and video games, alongside a bar serving up high-quality cocktails, wines and brews, makes BFD a new dining out destination.
Haynes has 30 years of experience in the family entertainment center industry, having run the gaming side of Dave & Busters since 1982.
He said his restaurant follows the Dave & Buster's concept, but on a smaller scale.
"The idea is for people to have a whole night out, where they get to eat, drink and have fun," Haynes said. "After working for Sega Gameworks for a couple of years, I wondered why you couldn't do it on a smaller scale, where you had made from scratch foods, mom and dad can come in and have something nice to eat, have a glass of wine or a cocktail, and not worry about the kids getting lost.
"It's designed to have a nice family night out, but not force the family to endure the loud noises and screaming kids that you see in some of the typical places."
The menu consists of items like Parmesan Truffle Fries, a Shrimp Arugula salad, Chicken and Waffles, and a Pie-in-a-Jar.
On the bar side, there's cocktails like Vitamin G, with vanilla vodka, pomegranate and elderflower liqueurs, or a Black Diamond with fresh blackberries, Tito's Vodka, and finished with a fresh orange twist and rosemary sprig.
Haynes said that his new restaurant is not just a place to take the kids.
BFD offers a new late night alternative in Flower Mound, keeping its kitchen open until 11 p.m. and bar open until midnight Friday and Saturday.
Craft brews not found anywhere else in Flower Mound, signature cocktails, and $2 wine specials Tuesday and Wednesday will attract those looking for a fun night out close to home.
The restaurant can accommodate large parties for all kinds of celebrations, office happy hours, business networking and other events with reserved seating, special food offerings and $2 wines by-the-glass.
To cater to the community, Friday night Flower Mound and Marcus High School after football game specials are also coming soon.
"We hope to have the opportunity to really branch out into the community, and be a part of Flower Mound. We want to be where people feel comfortable spending a Saturday, be it for a birthday party, watching the game or just hanging out," said Jocelyn Stocks, BFD Brand Manager.
Haynes said what sets BFD apart more than anything else, though, is the food.
"The food side of it has been such a surprise to people," Haynes said. "They come in and they see the games and they don't expect the food to be as good as it is. We make everything from scratch.
"I want people to know that we pay the closest attention to our food, and we want our food to be a shining star of everything, because I think that is what brings people back."
Visit www.barfundining.com or call 972-539-2410 for more information.