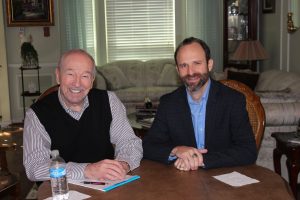 Flower Mound resident Tony Lawrence has thrown his hat in the ring as a Republican candidate for the Texas House of Reps in District 63. The District, represented since 2007 by Tan Parker, another Flower Mound resident, covers major portions of southwestern Denton County. Lawrence and Parker will be on the Republican ballot in the March 3, 2020 primary election. Mr. Lawrence came over for a video interview to tell our viewers about his background and why he decided to run for the Texas State House. The following biographical info was sent by Tony Lawrence:
"Tony served in the U.S. Air Force from 1997 to 2003. He was honorably discharged with an exemplary record as a non-commissioned officer and Aircraft Load Planner in the Air Mobility Command (AMC). Tony participated in and/or supported a number of war operations, including Operation Allied Force during the Kosovo War, Operation Enduring Freedom in Afghanistan, and Operation Iraqi Freedom.
"His military service also gave him the opportunity to be part of humanitarian efforts, like engaging in a massive ration lift during the Afghani Refugee crisis and providing relief to Puerto Rico after Hurricane George. Tony understands what Texas small business owners go through to operate and succeed. He has started businesses, including a mobile music production service and stone masonry construction company. Tony holds a B.S. in Business Leadership from Biola University. Tony has served as Director of Business Development at the largest integrated marketing firm in North America. Tony is a go-to-leader of innovation who works with top global companies, including Google, Samsung, Microsoft, HP and BP."
For more info on Tony Lawrence: www.LawrenceForTexas.com – His Facebook page is: www.facebook.com/TonyLawrenceforTexas.