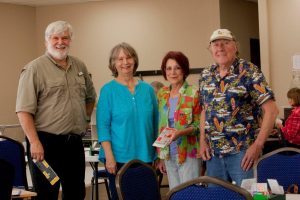 "We can't promise to make you the world's greatest bridge player, but we do promise to improve your game through our classes," states Darrel VanDyke, owner and director of the Bridge Academy of Flower Mound, Lewisville and Coppell (BAFLAC).
The Academy opened its doors in November 2018 for lessons from beginners to players with advanced skills, as well as sanctioned duplicate play. The BAFLAC was founded by avid bridge players of more than 40 years, Carolyn Henderson and VanDyke, because of their passion for the game.
"I believe there have been three amazing 'thinking' games ever created– Chess, Go and Bridge," said VanDyke. "But, bridge is unique, in that it's played as a team. Players like Bill Gates and Warren Buffet play it– not only because they enjoy it– but, because it keeps their minds sharp."
The American Contract Bridge League (ACBL) is the governing body for contract bridge in the United States, Mexico, Bermuda and Canada; and, is a member of the World Bridge Federation– the international bridge governing body. Its headquarters is in Mississippi.
Founded in 1937, the ACBL is the largest bridge organization in the world, serving more than 165,000 members. Every year, more than 3.5 million tables of bridge are sanctioned, played in more than 3,000 bridge clubs and 1,100 sectional and regional tournaments, plus one million tables played online.
VanDyke and Henderson both hold teaching credentials from ACBL. Currently, the Academy is open on Monday, Friday and Saturday.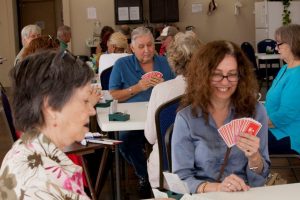 It's not uncommon that social (party) bridge players learned the game as just something they "picked-up" in high school or college. Yes, they may follow Goran's Rules for bridge, but have some alternative rules-of-play, such as bidding a "short club" opening, or a "no trump" or a "diamond" denial.
Bridge is played with four people sitting at a card table using a standard deck of 52 cards. Each partnership tries to win (or take) as many tricks as possible.
The challenge of bridge is in the bidding; the actual card playing is more-or-less pre-determined by the bidding process.
In duplicate bridge, the same deal is played at each table and scoring is based on relative performance. It takes a game like Pinochle, Hearts, or Spades and takes it to a new, competitive level.
"Players not only keep returning to play for the enjoyment of the game, but it's also a great way to make friends," said VanDyke.
For "Intro to Bridge" (which is held over four days and approximately 4- to 5-hours per day), the cost is $125 per person, or $100 for two.
"Most of our games are 'open' games. That means that, although stratified for master point gathering, a player might play against someone with hundreds– or maybe thousands– of master points," said VanDyke.
The "Newcomer" games mean that all players are fairly new to sanctioned duplicate, and that all playing are at the same level (fewer than 20 master points). There might be an instructor or director playing in the game to make up a table, but they will not compete for master points.
Although master points will be awarded, you do not have to be an ACBL member to play. (And, if you want to sign up for an ACBL membership, the Academy staff will help do so online.)
Party Bridge to Duplicate instruction involves strategy and tactical playing of cards; but, most of all, it is a wonderful social game.
The basics and mechanics of duplicate play are introduced and how duplicate is scored differently than party bridge. Students play several boards to get the feel of duplicate play.
Lastly, students are invited to attend a mentor/mentee duplicate game (where an experienced duplicate player will be teamed with a new duplicate player); rules are relaxed and the focus is on fun.
And, for those suffering from delayed gratification issues, there's Introduction to Bridge, which takes a student from square one to duplicate play. It's done over eight-hours, via four two-hour sessions.
Classes are $15, but the next session play is free. Classes are always free for ACBL membership holders. Both individual and group classes are offered at 4225 Meadowglen Drive in Lewisville (at the corner of FM 3040 and Meadowglen).
For more information and a schedule of classes, visit: www.baflac.com or call 214-929-8128.