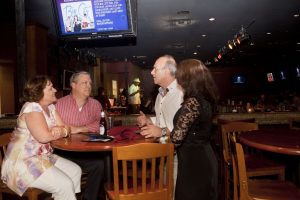 A sexual assault was reported in Flower Mound about a month ago.
The victim reported her attack to the Flower Mound Police Department (FMPD), had a medical exam and also posted news of her assault on Facebook. She wanted to warn others that there were two predators in the area and reminded others to be more aware of their surroundings, with whom they interact and what they eat or drink.
Lisa Brock's public alert was well-intentioned. The fact that she had the strength to take action after her attack represented her first step on her road to recovery. However, it also revealed, that because her assault was sexual in nature, she felt a need to defend her actions; the circumstances surrounding the attack. What if she reported that her attack had been a "mugging" for her purse or cell phone?
The reality is: nothing any person does– or doesn't do– grants permission to being attacked by another person.
"Victims shouldn't take any blame for the attack; it was that person [the attacker] who made the conscious decision to take that action," said Officer Richard Godoy, coordinator of Family Victim Services for the City of Denton Police Department, who has been a clinical social worker since 1997.
According to the U.S. Department of Justice Office on Violence Against Women: "Sexual assault is any type of sexual contact or behavior that occurs without the explicit consent of the recipient. It includes sexual acts against people who are unable to consent, either due to age or lack of capacity." www.justice.gov/ovw/sexual-assault
In other words, it isn't like the slogan: "just say no" against drug use. What it means in any sexual situation is, that unless a person says "yes," it is always a "no."
"Any case that's been reported is always followed-up by the police department," said Flower Mound Assistant Chief of Police Wendell Mitchell. "No one deserves to be hurt and we will help the victim in whatever way they need us. We can take them to the hospital or meet them there and can wait to drive them wherever they want to go and make sure they're somewhere safe."
Of course, an investigation will immediately include preserving the scene of the attack, collecting evidence and assigning an investigator for the victim's report.
In the case of Brock's assault, the FMPD had—and continues to have– the full cooperation of the business owner where she was last seen in public prior to the attack.
"We've only owned the Z Grill for about three months, but we'd upgraded our camera system about a week before Lisa's attack," said owner Shawn "Mash" Mashayekhi. "The police worked with our staff and have found the credit card receipts and the faces of the two men on the cameras. They [police investigators] could see from her receipt that our staff served Lisa just one drink, but that the men ordered six—they gave away three to the band—and had three left; one for each of them and an extra."
As she posted on Facebook, Brock believes she was drugged by the two men and they assaulted her– after she left Z Grill– in their car parked in the parking lot behind the building. She was fortunate that she wasn't transported anywhere and that the Z Grill bar staff discovered her.
"The parking lot isn't 'ours;' it's a large lot back there; but it's the right thing to do; for us to help Lisa and help the police catch whoever did this," said Mash. "She came in with her daughter last week to apologize for naming Z Grill in her post, because some people have written things against us. Unfortunately, our business has also been a 'victim' of her attack."
As a result of the association, Z Grill's 14 employees' customer-generated salaries have suffered and the business has lost more than $20,000 from lowered patronage. Mash said he was happy to help the FMPD, will continue to help Lisa and doesn't regret his family's decision to buy the business in Flower Mound.
"It's a nice place, a nice neighborhood and we've made so many nice friends," he said. "We want to thank all those people who've supported us."
This is just one example of the "ripple effect" that happens surrounding an assault victim. The attack creates a disturbance that expands to include the victim's family, friends, people in the workplace, their usual social connections and so on; with each of those primary relationships then creating its own "ripple effect."
The main concern of law enforcement officials, medical staffs and therapy support resources is, of course, the assault victim.
"Sometimes the victim will go to the hospital first, because they want to know if something happened to their body," said Capt. Michael Moore of the Lewisville Police Department Criminal Investigation Division.
There's a 96-hour (five day) window of time, past which a forensic medical exam may not be useful, because it's unlikely that evidence would still be present on the survivor. He added that a victim should at least get an exam to test for any sexually transmitted diseases (STDs).
The Non-Reported Sexual Assault Evidence Program was created in 2009.  It allows survivors of a sexual assault to obtain a forensic medical exam and have evidence collected, without cost to the victim, even if they do not wish to involve law enforcement personnel at the time of its collection.  It secures the evidence, while giving the survivor time to consider if they want to report the assault. The Texas Department of Public Safety must preserve the evidence for either two years— or until the victim releases the evidence— whichever comes first.
A sexual assault medical forensic examination is performed by specially trained medical professionals– a Sexual Assault Nurse Examiner (SANE) who is an RN– for the purpose of evaluation and treatment of trauma, treatment of possible exposure to infection, referral to counseling and follow-up medical care; and, for the collection of evidence for possible future legal testimony following a report of sexual assault by a victim. There are female and male SANE's to gender-match the victim.
Both hospitals and enforcement agencies will contact a SANE nurse. The medical well-being of the patient is the primary objective of the SANE at all times during the examination.
It's important to have the toxicology report to verify if a "Mickey" [chloral hydrate-type sleeping pill], a "Ruffie" [Rohypnol, a sedative], or liquid GHB [the "date-rape drug," which is a central nervous-system depressant, originally used by body builders to counter steroids] was given to the victim who can't remember later what happened, as Brock said happened to her. That's why SANE's are certified to give expert testimony in a legal setting.
"The toxicology results came back," said Brock. "Unfortunately, I didn't get my exam until the next day and GHB leaves your system after 12-hours. Now we're waiting for the DNA evidence."
She added that having been drugged and not actually remembering her assault made the attack less of an impact.
"The way I've operated my entire life, is that I don't let things break me or get me down," said Brock. "So, when things come crashing down on me, I 'm not bothered by it emotionally. I've moved on."
Not all victims have that ability.
"Any assault—especially a sexual assault—is a trauma," said Godoy. "It's sudden and unexpected. It forever changes a person and– at first– a person is in shock. Typically, victims may have trouble sleeping, be afraid to be alone and have the feeling like they have no control."
PTSD (Post Traumatic Stress Disorder) applies not only to military personnel who have witnessed—or committed under orders– personally-stressful actions, but to anyone impacted by trauma.
"We encourage they [victims] get counseling, not only to learn 'tools' to recover from the assault, but to learn how to regain control of themselves and then feel empowered going forward," added Godoy.
The Denton County Friends of the Family (DCFoF) is the premier victim support organization in North Texas. Its staff and trained volunteers provide: advocacy and case management; hospital exam accompaniment; group and individual counseling for adults; plus, play therapy for children ages three- to 10-years old.
According to statistics, two in five women in Texas have been sexually assaulted, one in five men—yes, men– in Texas have been sexually assaulted, 91-percent of assault victims did not report the attack to law enforcement and 98-percent of rapists roam free with only three-percent ever spending a day in jail.
The DCFoF has a 24-hour crisis line, 800-572-4031 or 940-382-7273, further information is available at www.dcof.org, or therapy appointments may be scheduled at 940-387-5131.
Of course, law enforcement agencies would prefer victims report a crime to them first. Just call 9-1-1, even if it's not immediately after the attack.
"Every time– for every report– we take that report as true," said Moore. "It would never, ever happen that we wouldn't respond. The detectives who investigate these assaults have that anger– a burning-desire– to find the truth and get these people [victims] justice. We've got to get those people [attackers] and put them in jail."
He added that's one of the reasons SANE exams are vital, even though the majority of reports are "the ones where people meet at a bar, got drunk and ended up someplace having sex."
He said basic rules are: be with a group, there's safety in numbers; have a designated-driver who can't be manipulated; don't go to the bathroom alone; and, always watch your drink given to you only from the bartender. Also, the number one place to meet online matches is a bar; don't do it.
The three area hospitals that are specially-equipped to perform SANE exams are Denton Regional, Baylor in Carrollton and the Flower Mound Emergency Center. SANE's may be called by other area hospitals, such as the Medical Center in Lewisville, to conduct exams, too.
"If a victim goes to a hospital first and then we get called, we'll go to the hospital to ID the assault location, so we can investigate the crime scene," said Officer Shane Kizer, public information officer (PIO) of the City of Denton Police Department. "We'll get a search warrant if needed for access. Our number-one goal is the healing process; not just physical, but mental—gauged on what is needed to bring justice forth."
The foremost reason law enforcement wants a victim, a friend or family member to report an assault is to protect others.
The fact that two men assaulted Brock is especially troubling, because it could mean she was not their first victim. They came prepared to find a victim to assault. Even if a victim doesn't tell anyone about the assault, others who know the victim will sense a change following the trauma; they'll know something is wrong; has changed.
"My mother told me something very important to me," said Brock. "I'm free-spirited and have always been a carefree person and she said: 'don't let this affect you.' I just don't have any emotions. I think they're [her attackers] idiots. It takes a whole lot to get me down."
"We take sexual assaults seriously," said Moore. "I wouldn't say they [rapes] were on the same level as murder, but they're pretty darn close. Because our immediate thought is: 'Do I have a serial rapist on our hands?'"
Nineteen years ago, Kizer had first-hand experience with a serial rapist when he was an investigator working the Kelli Cox disappearance in Denton. Her remains were found south of Houston this spring and identified in April by forensic testing, after being led to her burial-site by serial rapist, kidnapper and murderer William Reece.
Evidence connected him to attacks on at least seven women between 1986 and 1997 up and down the I-35 corridor in Texas and Oklahoma and along I-45 in the Houston area. He served 10-years in prison following the first two attacks, but went on to commit at least five more assaults—four involving murder– after his release.
Serial rapists are predators and master manipulators who use rape as a form of control and torture, often graduating to murder only as a sideline to avoid leaving witnesses. The more information from victim reports that investigators have, the more successful they'll be in identifying attack similarities.
With its large student population at the University of North Texas (UNT) and Texas Women's University (TWU), the City of Denton has a higher percentage of young adults in its population. Issues that occur on campus or in university housing are under the jurisdiction of campus police, but off-campus incidents fall under the jurisdiction of the City of Denton.
"There's more potential for bad decisions," said Kizer. "The moral code is lower than it used to be [back when a gentleman never took advantage] and that contributes to it [drinking too much or the use of spiked drinks]. Never be alone and watch your drink at all times."
He added that sometimes, even when those warnings are followed, bad results can happen.
Kizer told about a young UNT sorority girl who'd been pressured to go out with a boy from a partnered fraternity; she finally did and he assaulted her.
"There's a lot of pressure from their peers," said Kizer. "You'd think her sorority 'sisters' would have supported her; get her medical help and report it to the police. Instead, they made her go out with him again and he assaulted her again. As an investigator, I knew the DA couldn't get a conviction. I still think about her and hope she's okay. It still bothers me. As police officers, it's important that you not become jaded."
Women between 18-24-years-old are at the greatest risk for intimate partner violence. Nineteen-percent of undergraduate women reported experiencing completed or attempted sexual assault since entering college. Most of the assaults were committed by someone the victim knew and the perpetrators are often serial offenders.
Many college rapists target victims who are drugged, drunk, passed out, or otherwise incapacitated– creating a situation in which victims may be less likely to report the assault and where prosecutors may be less likely to prosecute. Only two-percent of victims of incapacitated [drugged] rape reported the assault to law enforcement.
However, studies confirm the undetected rapist is a serial hunter and serial offender – not the misunderstood drunk guy.
The occurrence statistics are such that there's a special federal office dedicated to campus sexual assaults: www.justice.gov/ovw/responding-campus-sexual-assault
A fraternity party was also the setting for the now nationally famous sexual assault known as the "Stanford Rape" case. Read in court by a representative, the victim wrote a letter to Brock Turner, the convicted attacker, including (in part):
"He admitted to wanting to hook up with someone. I was the wounded antelope of the herd, completely alone and vulnerable, physically unable to fend for myself, and he chose me. Sometimes I think, if I hadn't gone, then this never would've happened. But then I realized, it would have happened, just to somebody else.
"Everyone in this room has had a night where they have regretted drinking too much, or knows someone close to them who has had a night where they have regretted drinking too much. Regretting drinking is not the same as regretting sexual assault. We were both drunk, the difference is I did not take off your pants and underwear, touch you inappropriately, and run away. That's the difference.
"I wanted to take off my body like a jacket and leave it at the hospital with everything else.
"I tried to push it out of my mind, but it was so heavy. After work, I would drive to a secluded place to scream. I didn't talk, I didn't eat, I didn't sleep, I didn't interact with anyone, and I became isolated from the ones I loved most. For one week after the incident, I didn't get any calls or updates about that night or what happened to me. The only symbol that proved that it hadn't just been a bad dream was the sweatshirt from the hospital in my drawer."
To read the entire letter, visit: www.buzzfeed.com/katiejmbaker/heres-the-powerful-letter-the-stanford-victim-read
Although Turner was convicted of three counts of felony sexual assault for sexually assaulting an unconscious woman, Judge Aaron Persky sentenced him to only six-months. Not only has the sentence resulted in more than one-million signatures on a petition requesting Persky resign, but he has been removed by the Santa Clara County district attorney from hearing an unrelated sexual assault case.
"After … the recent turn of events, we lack confidence that Judge Persky can fairly participate in this upcoming hearing in which a male nurse sexually assaulted an anesthetized female patient," District Attorney Jeff Rosen said.
Twenty jurors refused to serve in Persky's courtroom Wednesday [June 15], citing the judge as a hardship, according to CNN affiliate KPIX-TV in San Francisco.
So many people affected by the "ripple effect" of this one assault.
Included is Vice President Joe Biden who published an open letter of support to the young victim. As a Senator, he wrote the 1994 Violence Against Women Act and is currently involved in the White House's "It's On Us" campaign against campus sexual assault. As part of his letter, Biden wrote:
"I join your global chorus of supporters, because we can never say enough to survivors: I believe you. It is not your fault. What you endured is never, never, never, NEVER a woman's fault."
To read the entire letter, visit: www.buzzfeed.com/tomnamako/joe-biden-writes-an-open-letter-to-stanford-survivor?utm_term=.kc3Mk8pXK#.toWaBp0Py
In 1993, E. Buchwald' book, "Transforming a Rape Culture," stated:
"America is still a rape culture; a complex set of beliefs that encourages male sexual aggression and supports violence against women. A rape culture condones physical and emotional terrorism against women as the norm; a continuum of threatened violence that ranges from sexual remarks to sexual touching to rape itself."
In the 23 years since that was written, American society has made legal and law enforcement changes to support assault victims. Unfortunately, the perception by some, such as Persky, that "rape" is a "sex" act, instead of an assault, means our society still has a long way to go in its change from being a "rape culture."