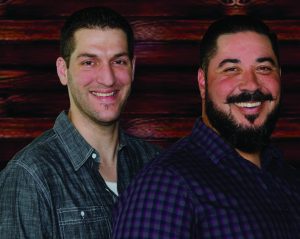 What do you get when you mix a Southern Californian, friends from Texas and one of the world's most revered chefs? Well, you get The Table, a one-of-a-kind restaurant coming to north Flower Mound.
"We're big supporters of the town and our local churches and the community," said Bruce Wills, one of the owners. "I've always had that love for supporting new ownership, not corporate chain types of things. When they [do business] at home that makes a better business."
The Table is one of a trifecta of new restaurants coming to Highlands Plaza, at the southeast corner of FM 407 and Chinn Chapel Road. Wills and his business partner Ty Wellborne have a casual concept in mind, marrying upscale service and food quality with an industrial/rustic ambiance.
"It's a type of place that you can come in after work in a suit if you want or you can come in a tank top and shorts," Wills said.
The Table's chef, Ray Skradvinski, plans to serve up a harvest of locally provided foods. He, along with Wills, trained under renowned chef Wolfgang Puck. And apparently, being from the east coast, Skradvinski has a thing for Italian cuisine, so diners can expect homemade pastas made in house and cut to order. Hand-tossed pizzas and flatbreads will be baked in a pizza oven using Skradvinski's hand-crafted dough recipe.
Wills, who is currently the manager of Five Sixty, an Asian restaurant owned by Puck in Dallas' Reunion Tower, defines The Table's cuisine as "New American."
"Typically everything American isn't really from here," Wills said. "Ray's very creative, very passionate about food."
The evening menu will include a burger, two steaks, a game hen dish, grilled salmon and redfish, schnitzel, pastas and other handsome, yet hearty dishes. During the day the menu will look a lot like the dinner plan, but with smaller portions and a few less items offered. The lunch crowd can plan for salads, sandwiches, pastas and pizzas.
Bringing bread to the table
The adventure for Wills began a few states to the west.
"I knew a friend who worked for Wolfgang Puck's fine dining group and I worked hard to get my foot in the door," he said.
Puck has a program teaching food and beverage courses much like a hospitality degree in college, including weekly tests and monthly taste tests. Through that, Wills got to travel and learn how different dishes are made. He started out doing catering work, then event coordination and finally, management.
"I kind of ducked that a little bit because I didn't want to get bogged down in a heavy schedule," Will said, adding that his wife Mariah pushed him along the way. "We made the decision together and it ended up being a good move for me." Eventually, Wills was running four restaurants for Puck in Las Vegas … when the cowbells came calling.
"Then Las Vegas started taking its toll on me, it got old," he said. "My kids were getting older. It was time for us to move on and think about our family."
Friends from the "City of Lights" had moved to Argyle and the Wills' vacationed at their home one weekend.
"It was like, why do I want to go there to visit?" Wills said he thought to himself. "We took a weekend and went and I thought it was very relaxing. We enjoyed it, we liked it and it was a great community for the kids and for churches … just more things that we needed for our lives so it was a great fit."
Fast-forward a couple years and Wills and his family were firmly nestled into a home in Flower Mound. He's been here working at Five Sixty for four years.
"My own thing has been on my mind for several years," he said. "More of a dream … how great it would be to have your own thing. "I saw so many restaurants doing well," Wills said of the Dallas suburbs. "I saw a lot more diners than I anticipated educated in food and wine. When you think of Texas, you think of steakhouses …"
Thus began the hunger pangs.
Starting from scratch
Wills began making connections, reviewing branding guides, concept guides and restaurant law. He initially had his eye set on Dallas, but he met a man at Five Sixty who happened to be working on the River Walk at Central Park development.
"I drove out there and that's kind of what sparked my interest in Flower Mound, meeting more people and more acquaintances out here in North Texas," Wills said. "People say, 'I'm from here, I'm from there and we want something more than just a chain restaurant.'"
Enter, Ty Wellborne.
"Our sons played baseball in Flower Mound," Wills said. "He started showing up at my house in the morning and would say, 'Hey, let's talk about this restaurant thing."
From there, Wills and Wellborne formed a partnership for this venture. Wellborne came up with the name "The Vintage Table," for the restaurant.
"The table's where everyone has dinner and everything," he said. "The table is where everything happens. We dropped the 'vintage' because that's something you can't touch. "It just kind of fit, it worked for us."
Supporting that name, the tables inside the restaurant will be custom, made from a Forney business that tears apart buildings and refinishes the wood gathered. Wills has a soft opening planned for October 5 with a grand opening a couple weeks later. Also, everyone who sidles up to the bar will leave their mark. The surface of the bar will be unfinished so each time a ring of water is left, it's going to leave its mark — just like home.
More dining options
Next to The Table will be Gloria's Latin Cuisine. Gloria's offers all types of Latin libations and victuals including a slate of Tex-Mex favorites, Salvadorian samplers, quesadillas, tacos and fajitas. They also serve up salads like the ceviche chimichurri and the tropical salad, which boasts strawberries, mango, pineapple and mandarins.
Some locations have space for live music and salsa dancing. Founders Gloria and Jose Fuentes first met in Houston after fleeing war-torn El Salvador in 1978. They met, fell in love, got married and moved to Dallas to work for Gloria's sister at a Salvadorian restaurant she owned in the Oak Cliff area.
A year later, Gloria's sister gave up on the restaurant and Gloria and Jose decided to take over. Playing an entrepreneurial role–with no previous restaurant ownership background–the couple registered the Gloria's name with the city on April 15, 1986. A few months later they became legal U.S. residents under the amnesty provisions of the Immigration Reform and Control Act of 1986, according to the restaurant's website.
Under Jose and Gloria's management, the little Salvadorian restaurant became distinguished for its tasty food. After an undercover newspaper food critic gave them a very positive review, there was a considerable line of patrons waiting under the hot summer sun for an opportunity to indulge in the new and delicious dishes. Gloria's growth has been a constant ever since, now boasting 15 Texas locations.
"We are very excited and pleased to be in your town," General Manager Carlos Fuentes told the Flower Mound Town Council recently. "It's very important to us to have awareness to our customers. We plan to be very successful."
Gloria's will be set at the corner of an L-shaped strip mall area, between The Table and Pie Five Pizza. Pie Five Pizza, a new concept from Pizza Inn, is already shoehorning itself into its newest location and plans to be the first of the trifecta to open its doors. The opening is scheduled for August 21st.
Starting from the first dough throw in 2011 in Fort Worth, Pie Five Pizza rustles up its pizzas from scratch in minutes with fresh ingredients. Signature recipes are on the menu, or patrons can create their own pie. Choose from ingredients like Tuscan marinara, Kalamata olives, sun-dried tomatoes, basil drizzle, buffalo ranch sauce and a spectrum of other flavors.
Oh, and they also offer whole grain thin or gluten-free crust.
Pie Five Pizza will bring 20-22 full-time and part-time jobs into the area.