My wife and I ate there yesterday (Saturday). I had the #7 Speed Bump - "Slow down! Topped with bacon crumbles, chopped onions, cheddar cheese, and flooded with smoky BBQ sauce" for $6.49 plus $2.25 to add German potato salad and a drink.
The burger was on a yellow bun and had an unexpectedly large portion of meat. I think the bun could have been a bit fresher. I liked the flavor but
not as much as my last peppercorn burger at Red Robin on June 23rd
.
Also, the dining experience is significantly different as Red Robin is a more like a typical restaurant (with a nice environment) and Burgers & Brats is more like a no-frills fast food place. For example, napkins consisted of a roll of paper towels on the table. If you don't want to go out to eat at a McDonald's or Taco Bell type environment, then you probably won't want to go out to eat at Burgers & Brats. Even though I think the food is good, I also think the price is a bit high for what you get and the environment.
I did not care much for the German potato salad - but that may be because it's not "my type" of potato salad or I'm just not use to it. The flavor might "grow on me" if I had it more often.
I would like to go back sometime and try one of their Philly cheese steaks.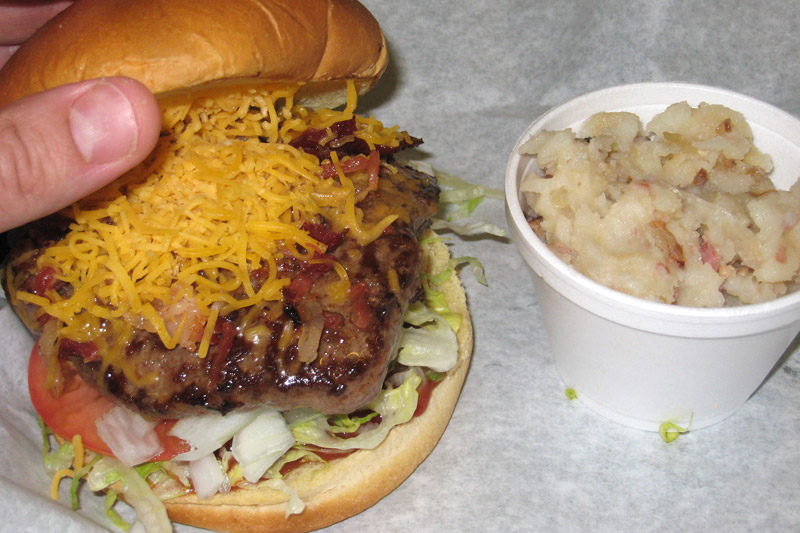 #7 Speed Bump Burger (3.75 out of 5):
3/4
German potato salad (2.5 out of 5):
1/2
Fries (3.5 out of 5):
1/2
Environment for a "fast food" place (3 out of 5):
Value (2.5 out of 5):
1/2
Rating Scale
: 1 - poor (rarely given)
: 2 - fair
: 3 - good
: 4 - very good
: 5 - excellent (rarely given)
-- Ratings of Various Food Places I've Tried --